The King's Kingdom has finally begun! With his resurrection and victory over death, Christ ushered in the beginning of his new kingdom. A kingdom where you and I might live as true Daughters of the King! A kingdom where he is beginning to finally restore the entire cosmos back to his original design – a kingdom of rest where God's People live in God's Place and under God's Rule and Blessing.
But in our lesson this week, we also learned that we still have to wait a little bit longer for our complete and total transformation and the earth's complete and total restoration. Christ says he won't complete this redemption/restoration process until he comes to earth a Second Time. So, in our lesson this week we learned that there is a DELAY between the RESURRECTIONwhich inaugurates the kingdom and the FINAL restoration of God's kingdom.
So, where do our lives fit on the biblical timeline? Where do our own life stories fall in the greater biblical narrative? Our lives fall in this period in which the kingdom is both 'now' and 'not yet.'This is the time in which you and I live. The kingdom has begun. At present we can experience victory over sin and are filled with the joy and holiness of the Holy Spirit. But, the kingdom has not been totally instated yet. Look around. Surely life as we know it is not the final perfected kingdom that God envisioned for us. There is still sin, sorrow, pain, heartache, sickness, hatred, strife. The kingdom is not yet totally restored.
Yet, Scripture is clear that believers who have entered into that covenant relationship with Christ can refer to themselves as "citizens" of this new kingdom – even though we haven't witnessed or received all its blessings yet.
One of the reasons why God is delaying the complete transformation is because he still has a job for us to do. We are to serve as his sub-regeants over creation (Gen. 1:26-28). We are to be a kingdom of priests (Ex. 19). We are to be a witnesses to the nations (Lk 24). We are not just His daughters in name only, but in responsibility as well! And to help us in this royal path, God has once again provided us the ultimate Helper.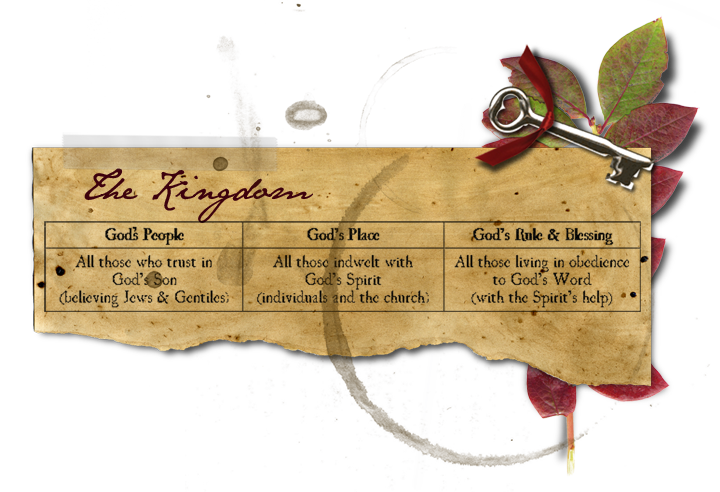 The Holy Spirit indwells us:
to give us new birth in the Son (Acts 2:37-39)
to produce holiness in us like the holiness of the Son (Acts 2:40ff); and
to equip us for service by giving us boldness to proclaim the name of the Son (Acts 4).